LES: Just a reminder that today is an early release day and we will be dismissing at 12:00 lunch will be served.
Reminder tomorrow (2/1/23) is an early release day and students will be dismissed at 12pm. Lunch will be served at school.
LES: Please don't forget that there is a HEPA meeting tonight at 6:00 at LES. Please enter through the main doors. Thanks!
The Lincoln 2nd and 3rd grade music concert date has been changed. Instead of Thursday the 9th, it has been changed to Monday the 13th. Nothing else has changed besides the date. I do apologize for the change and inconveniences this causes. Please contact Mrs. Kraft with any questions.

Hoisington Public Library is offering a perler bead craft for kids! Come by the library anytime with an adult to participate in this craft. An adult over age 18 must be present. Call 620-653-4128 for more information. We are open MW, 10 am – 6 pm: TTH, Fri., Noon- 6pm; and Sat. 9 am-1 pm.
LES: The HEPA meeting for tonight is rescheduled for Jan. 30th at 6:00pm. Thanks!

HMS: 1/16-1/21
LES Math/Reading winter benchmarking scores and grade cards are being sent home in folders today. The 2nd 9 weeks honor roll assembly is on January 20th at 8:00 am. If your student is receiving an award, a note will be stapled to their grade card. If they do not make it home, please call the front office. Thanks!


Happy Holidays! Hoisington Public Library offers books to borrow! If you're bored over the holidays, come on down through Christmas Break! Mondays Open 10 am to 6 pm Tuesdays Open 12 am to 6 pm Wednesdays Open 10 am to 6 pm Thursdays Open 12 am to 6 pm Fridays Open 12 am to 6 pm Closed Dec. 23-26; and Dec. 31-Jan 2.

USD 431 is taking name of those interested in serving on the Hoisington Recreation Commission. If you are interested please email Patrick Crowdis at
pcrowdis@usd431.net
or stop in the District Office at 165 West 3rd Street in Hoisington. Applicants will be presented to the Board of Education for Consideration at the January 9th 2023 Board of Education meeting.


Just a reminder if your child qualifies for a dental cleaning, fluoride and sealants the First Care Clinic dental form will be due to your child's school by 12/2/22. If you have any questions or if you need a form sent home call your child's school office . Thank you!
LES: We do not have school Nov. 23-25th! Please enjoy your break! We are thankful for LES families!

Santa's Coming to Hoisington Library, 169 S. Walnut, 10 a.m. Dec.3. Come see Santa and have your picture taken!
LES: all are welcome for math family engagement night today from 5:30-7:00 pm. We hope to see you there!

There are some issues taking place between RevTrak and PowerSchool. This is making it difficult to make on-line payments. They are in the process of correcting this issue. If you would like to make payments toward fees or lunches please contact the district office at 620-653-4134 Thank you!

Come to the Library to paint a fun Christmas decoration! Using empty bottles, you will paint a Christmas decoration with fairy lights. It will be 4-6 p.m. December 1st at the Hoisington Public Library, 169 S. Walnut. Free—for adults.
Lincoln Elementary is holding a math engagement night. Please check out our flyer. We hope to see you there!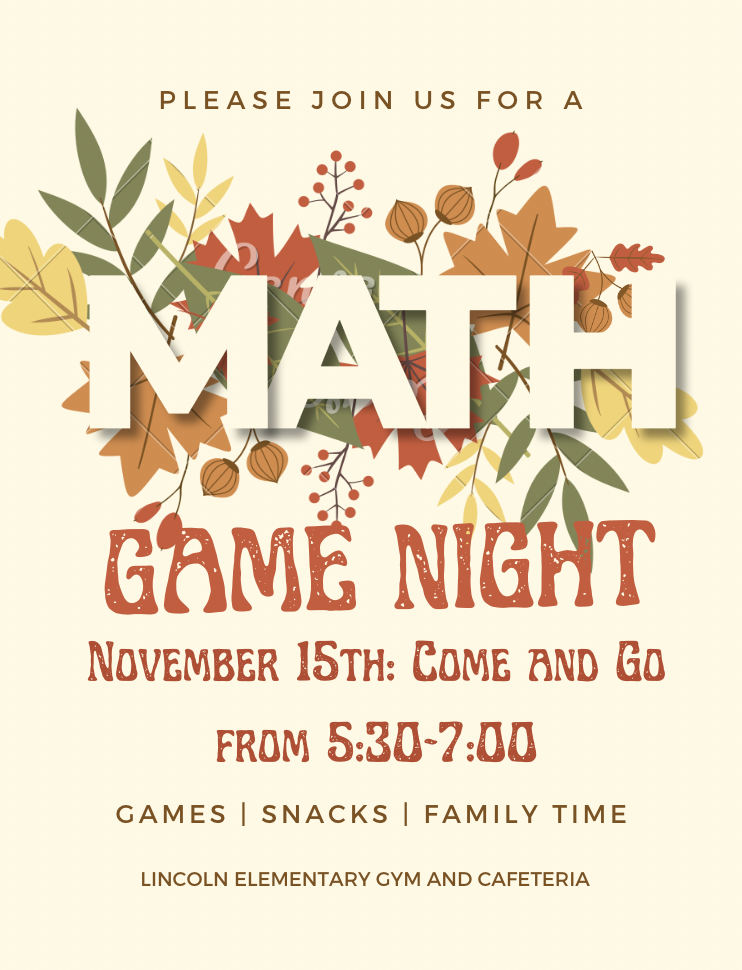 LES: This is just a friendly reminder that we dismiss school at Noon today due to Parent-Teacher Conferences. We do not have school on Friday, October 28th. Thank you!