Cardinal Football at half Hoisington 14 Phillipsburg 12

Cardinal Football End 1st Hoisington 0 Phillipsburg 6

Friday Night Football Week #9 Match-up Hoisington vs. Phillipsburg at Elton Brown Field Game Time: 7:00pm Adults- $5 Students- $4 Passes Accepted

State Cross Country Saturday 8/29 Rim Rock Farm 2276 Burnett Lane, Lawrence Ks Kynlie Crowdis will run at 10:00am Kamden Tarlton will run at 11:45am Entry Fee for all ages $10 Good Luck to Our Cardinal Runners

Lady Cardinals go down to Smoky Valley in second round of Sub-State ending there season. Great season ladies!

Lady Cardinal Volleyball wins first round Sub-State match against Hesston will play Smoky Valley next.

Kamden Tarlton 4th, Kynlie Crowdis 5th punch there tickets to State Cross Country next week at Lawrence. Boys finished 4th as team and Girls 6th at Regionals.

Cardinal Football Final Hoisington 35 Cimarron 0

Cardinal Football at the half Hoisington 35 Cimarron 0

Cardinal Cross Country will be heading to Goodland tomorrow for Regional Cross Country. Girls run at 11:00 and Boys at 11:45. Good Luck

Sub-State brackets are out and the Lady Cardinals will be taking on Hesston 10/22 20 minutes after 2:00pm game. Good Luck Ladies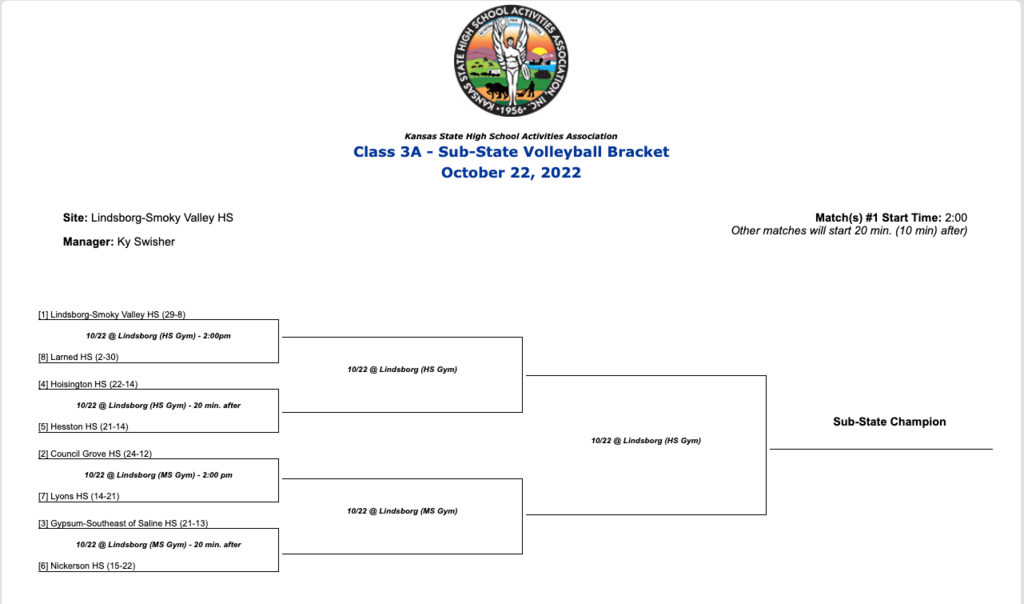 2022 SENIOR NIGHT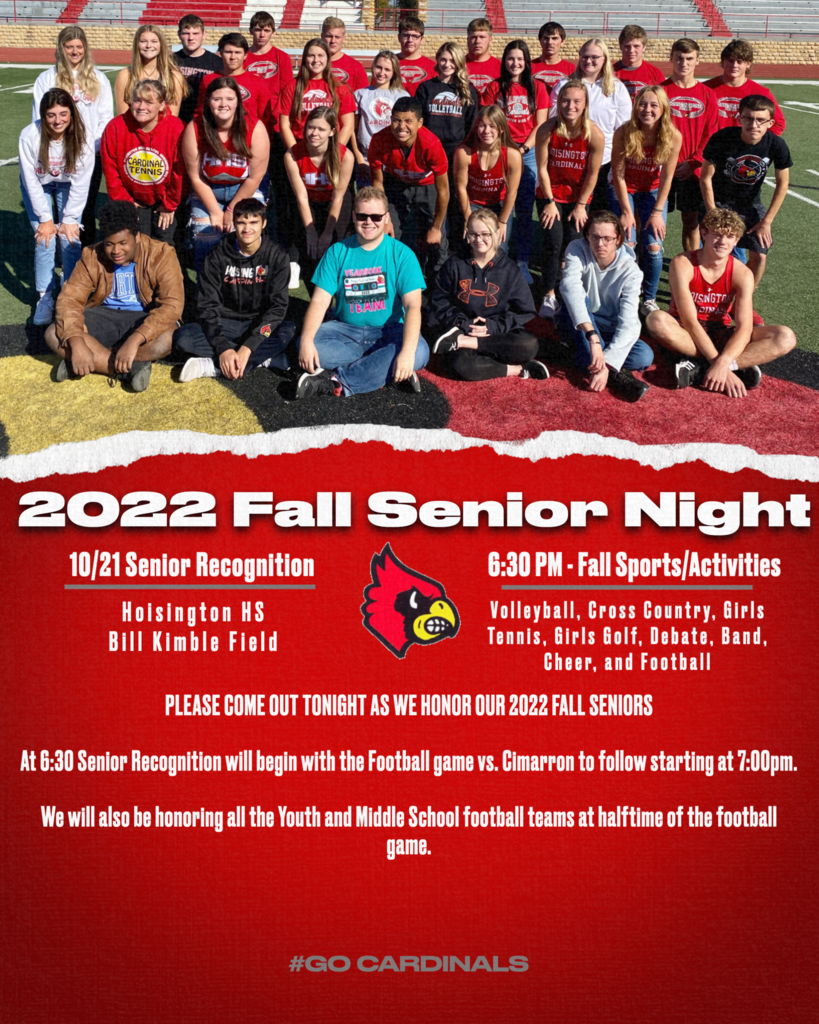 Congratulations to Lady Cardinal Golfers and Coaches with a 4th place finish at state!

Lady Cardinals Golf takes 5th at state on Day 1. Whole team will come back for Day 2

Cardinal Football Final Hoisington 52 Larned 6

Cardinal Football at the half Hoisington 31 Larned 6

Cardinal Cross Country had a great day at League Meet. Boys and Girls both finished 4th. Notable Placers: Kamden Tarlton 2nd Elijah Lewis 14th Kynlie Crowdis 8th Mea Sneath 15th Landon Beaver 1st JV Kasey Andereck 3rd JV

USD 431 is currently seeking to fill a vacancy on the Board of Education.  All positions are at large positions.  Anyone interested in filling this vacancy is asked to apply for the position by submitting a letter in writing by 4:00 p.m. on Thursday, November 10, 2022  to Superintendent Patrick Crowdis at the USD 431 District Office, 165 West 3rd, Hoisington, KS 67544. Candidates will then be given a list of questions to submit by Friday November 18, 2022.   Those who have submitted their letter of interest will be asked to attend the December 5, 2022, Board of Education Meeting at 7:00pm for the selection process.  The newly selected board member will be sworn in at the board meeting January 9, 2023 at 7:00 pm. Thank you for your interest in serving on the USD 431 Board of Education.  

Cardinal Football with the WIN Hoisington 44 Lakin 0

Cardinal Football at half Hoisington 34 Lakin 0