Free Books!!!—Come to Hoisington Public Library, 169 S. Walnut, to sign your 0-5 year old up for the Dolly Parton Imagination Library. They'll receive free books once per month in the mail! The books will arrive in a clear envelope with the child's name on the front. Kids love to get mail! Call 620-653-4128 for more information.
Reminder Enrollment is now Open. Go To: USD 431.net to log on to PowerSchool. Make sure to click on E-Registration. See previous posts for more details. New students will need to come to the District office for registration. Thank you!

Hoisington MS/HS Fall Sports Information Any questions please email: Faron Kraft HS Assistant Principal/Activities Director
fkraft@usd431.net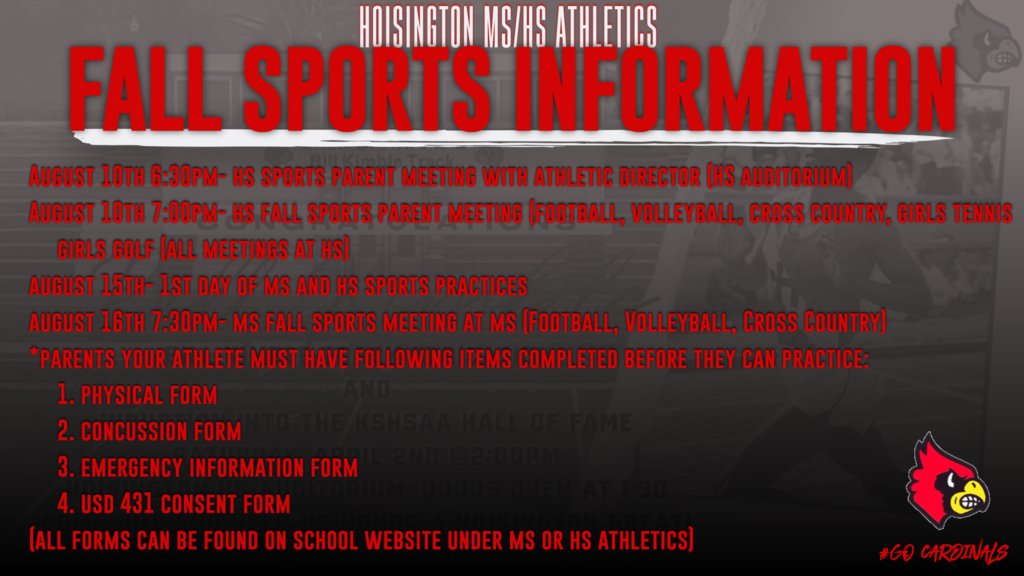 2022-2023 ONLINE ENROLLMENT INFORMATION
FYI On-line Enrollment is coming for USD 431 Hoisington Schools, July 25th, 2022. More details to follow!
Due to electrical issues at the Activities Center the air conditioning is down again. The AC will continue to close as it has until the issue is resolved. We at USD 431 apologize for any inconvenience. We are working on it as fast as we can. Thank you for your patience.

Spread the word the football field and track will be closed for repairs starting Monday. Thank you!

Enjoy your summer everyone! There are a lot of new and exciting changes coming for the 2022-2023 school year!

Tonight's Hoisington Middle School's 8th Grade promotion will be livestreamed at
https://youtu.be/adayOrLfJgY
for anyone that can not attend in person.


If you can not make it to the 2022 Hoisington High School Graduation Today at 2pm. You can watch it live on YouTube!
https://youtu.be/L0Y0JX-HU1c
Middle School Robotics team will be headed to Dallas for World's Competition May 8, 9, and 10, 2022.

Join us at graduation on May 8th at 2:00 p.m.! Congrats to our seniors!